Get ready! It's time for the 49th Annual Atlanta Pride Festival, and AARPCV will be there. Join fellow Atlanta Area RPCVs and march with us in the Atlanta Pride Parade! We will be carrying flags from the Peace Corps countries of service (first come, first serve) as well as our AARPCV banner as we march down Peachtree.

The Pride Parade begins at the MARTA Civic Center Station (intersection of W. Peachtree and Ralph McGill Blvd). Please use MARTA to get to the meeting point, as there is NO PARKING in this area. Participants are asked to assemble between 11:30 am and 12:00 pm, and the parade is set to start at 12:00!

Please find us in the parade line! Where we end up in the line will be dependent on when we arrive and who is already there - so keep your eye out for all our country flags!! Check our Facebook page for updates on our location.

Please remember sunscreen, water, a hat, and your Peace Corps and/or pride themed attire!

For more info about the Atlanta Pride Festival, please visit: www.atlantapride.org. Can't wait to see you there!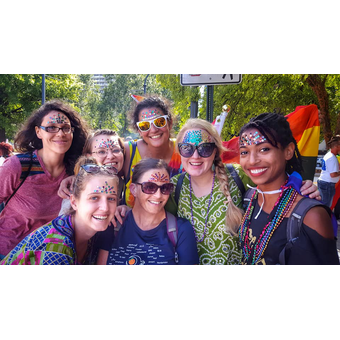 Civic Center Station, 435 W Peachtree St NW, Atlanta, GA 30308, USA